I should go back and read my last blog post to see what I wrote about so I don't repeat myself or forget to fill in the blanks. But I'm lazy. So I'm not going to.
The days leading up to the wedding had me last-minute planning like a crazy person. I built a 4-page, minute-by-minute breakdown of the big weekend and a list of 100+ items that needed to be packed by various people. I then lost multiple friends by emailing said lists out to all of the important parties involved with the wedding, which is to say everyone. And not everyone appreciated these overwhelmingly detailed lists the way I did. I would like it if someone out there would hire me to coordinate their wedding, because I've got this shit on lock. If you do hire me though, I can promise three things: I will eat cake, I will get a little drunk and I will dance my ass off (assuming there are no pressing emergencies). And these three things mean I would charge an incredibly low rate. So, holla atcha gurl.
The Thursday before the wedding I left work at 1pm, ran around the city trying to tidy up last-minute loose ends, met a brand new baby and picked up my wedding dress (finally). The people of David's Bridal have seen me cry more times than I care t0 count. With the money I spent on alterations, I could have bought an entirely separate dress. I remind myself of this every time I think I want to treat myself to a slice of cake or coffee that doesn't come from the office keurig. Booze doesn't count. Because that's just rude.
Friday was spent waking up early and scouting out potential photography locations. One of which was a brewery–we know where our priorities lie. I got my nails done for the first time in forever and for the actual first time, got gel polish. And you know what, that stuff is nuts! Literally 4 weeks later and it is still on my nails. 4 WEEKS! It also sucks. Because 4 weeks later this stuff is still on my nails because you need special stuff to remove it. Which means I would nee
d to go into a salon. Which means I would need to convince Steph that we have enough money to get our nails done because I don't like running errands alone (this was in my vows. literally.). And we don't have enough money so I shall simply wait until they finish growing out. After my pampering escapade, friends and family started rolling in to help us spend 5 hours decorating and setting up. It was windy as hell so everything that got done was taken down to keep from blowing away and I think we all felt a little defeated. I prepared for every weather scenario except for wind. We contemplated renting panels for the tent until Steph reminded me that it would be another $500 so I laughed and thought, "decorations are for chumps. I much prefer an environment that looks sad and sparse in which I, as a bride, will stand out more than I already do." We lucked out though because it was not nearly as windy the ne
xt day. Just cold as fuck (sorry to everyone that came and didn't dress appropriately and also didn't dance). We had Lowcountry Boil for our rehearsal dinner and an armadilla cake for dessert, the butt of which I made sure to hand-feed to everyone in close proximity, because, "there's nothin' like a good piece of ass" (Steel Magnolias. seriously. watch it). Stephanie and I parted ways and while I'm fairly certain she had a classy, quiet night with all of her maids, I played Boom aka Slap Cup and took my traditional Bride's Bath (I know you all want me to elaborate on this but I'm not going to…I will tell you though that I slipped while sitting, which is a real skill).
And then on October 22, 2016, Stephanie Ann and I got married. I cried a little, she cried a lot. She danced a little, I danced a lot. It was pretty neat. The End.
Just Kidding!
I woke up at 5am on Saturday freaking out about everything that needed to be done still. And like the asshat I am, I texted my soon-to-be wife with a list of things to do. No, I did not say, "Good Morning"or even a simple, "I love you." I am a literal piece of trash. Luckily she still had time to change her mind. And she didn't. So I consider this to be a good sign. I finally fell back asleep after a few hours of panic and at 9:30 I assembled the troops to dole out their jobs. This took forever to get through because my friends cannot take anything, especially me, seriously. The next two hours were spent dealing with the 10 pounds of hair I have (had). I wish I could update you on what Steph was doing but really I have no clue, other than being perfect (still trying to make up for that shitty text, guys. And the shitty other thing I did–or didn't do–on our wedding day. Aka I didn't write my wife a note. And I didn't read the one she wrote me. I suck). She also drank Gin Gimlets like the classy little fuck she is (my Lord Chamberlain said I was allowed to say this). I drank Andre out of the bottle and a beer that now publicly supports Trump, so…ya know.
After that, some other stuff happened: pictures, first look, kissing, gross, being cold, blah blah blah. We returned to the farm to prepare for the big part and boy oh boy did I start to panic. I had a ten minute mental debate trying to decide if I should take a pill and risk falling asleep during the reception. I opted out because the fear of missing one of my favorite songs was too great.
And just so you know, I was not getting cold feet. I was just getting extreme stage fright. I insisted on having a bottle of water up at the front just in case I got too thirsty or locked my knees and felt like I might pass out. I am a damn fish these days and I'm also addicted to my water bottle. This sounds hyperbolic but I truly cannot go
anywhere without it. And I remembered immediately not to lock my knees. I even whispered to Steph to remind her not to because I got anxious that she might forget and pass out and leave me standing there alone. Needless to say, I did not need the water. A fact of which I am very proud. The only thing I feel like sharing about the ceremony itself, because I think it's cute as hell, is that Stephanie and I wrote our own vows and did not share them prior to the ceremony, not even a little bit! AND WE BOTH SAID THE SAME LAST SENTENCE. Shit. That is beyond cute, I don't care what you think.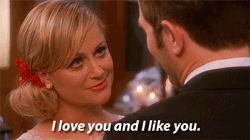 The reception happened and it was miserably cold unless you were me and never ever left the dance floor and wore long socks under your wedding dress in which case it felt really quite lovely out. I had the best night ever, and I could not have
been happier with the way things turned out. I only wish the night could have been longer, or it could have been a full day event. I don't know. There's so much I wanted to do. And so many people I wanted to spend time with (something I actually kind of sucked at because I mean it when I said I never left the dance floor).
The Monday after the wedding we headed to Highlands, NC for our honeymoon. This probably deserves its own post because I think I'm tapped out. These pictures are making me wish that I could go back and do it all again. And again.
I'm married…I'm a new woman…and I have given up on my usual signoff. And that's just the way the cookie crumbles.
P.S. Not to worry. The rest of the pictures will come, in due time. Steph and I have a casual 1,500 to sift through.
and in case you're a lazy fuck like me…